Accessible Festive Indoor Market @ Hulme, Manchester
30th November 2019 @ 11:00 am

-

4:00 pm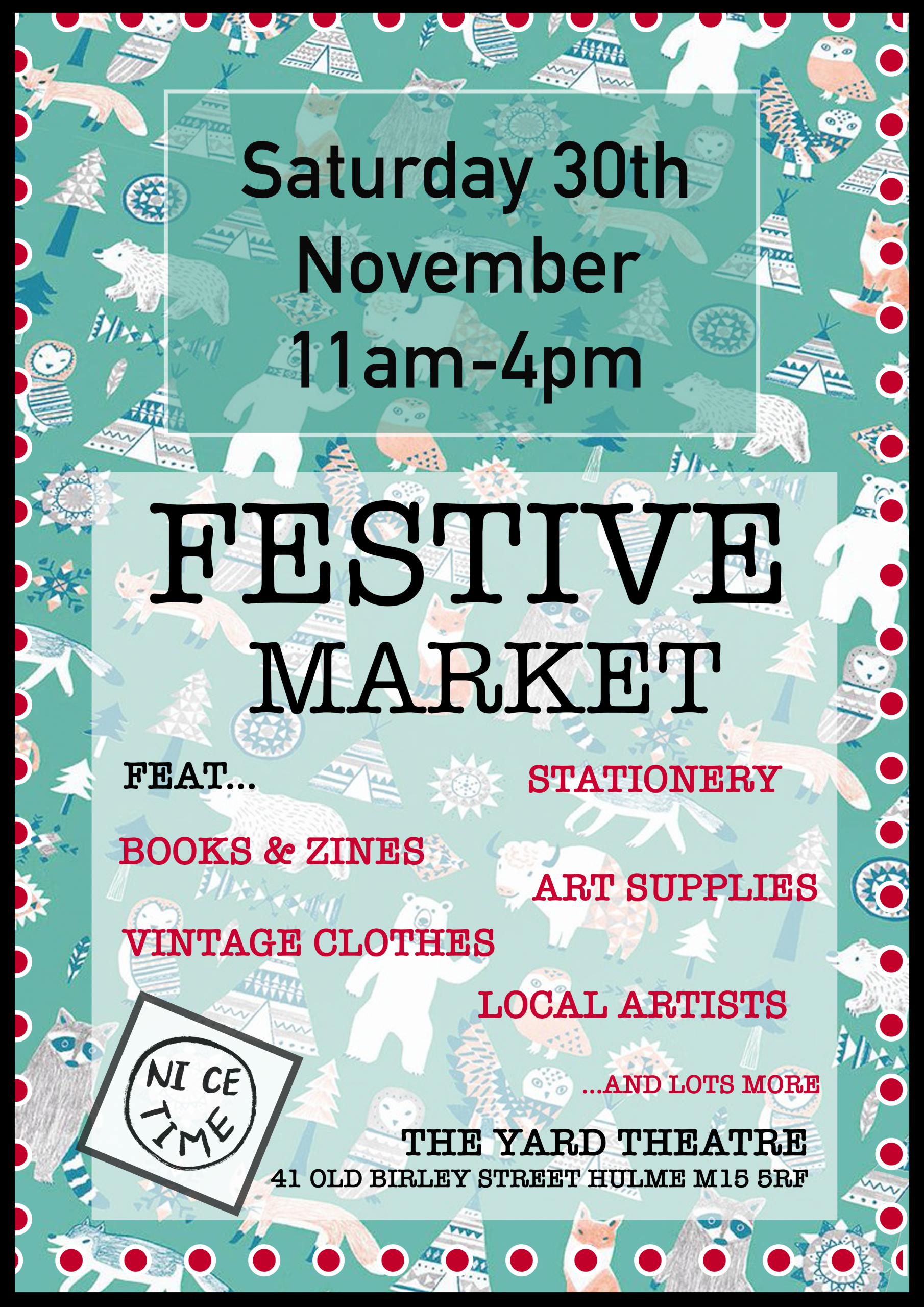 Welcome to what may be your first (but probably not your last!) festive market of the season!
Come along to our wonderfully wheelchair accessible and cosy indoors market on Saturday 30th November.
We'll have Stationary 'N' Stationery selling their collection of notebooks, washi tape, stickers and art supplies from all over the world, as well as brand new ranges from Pink Pig Sketchbooks & Ohh Deer.
We'll also have new feminist & queer zines, books and badges from Manchester's much-loved Pen Fight, with new themed parcels and grab bags available if you want to surprise someone (or even yourself!).
We've got a table of never-before seen artwork, products, prints & cards from local artists Kelly Quinzel, Vicky Stevenson, Ellie Page and more.
We've also got a super-sale on a collection of vintage clothes that has been growing in obscurity and size for over 30 years – you can't miss the chance to get hold of some truly unique pieces before the seasonal rush leaves all our shelves bare.
There will also be a donations-based card-making workshop for everyone to join in with, so you can make your own gifts as well as support local businesses and local artists.
We have only a few stall spaces left, and all of the stall holder fees go towards our accessible arts practice, Nice Time Arts so if you'd like to reserve a space, please email ellie@nice-time.co.uk.
ACCESSIBILITY:
The Yard is on the ground floor and is wheelchair accessible. There are gender neutral toilets and accessible toilets. Music may be playing at a low volume, but can be turned off on request (you may also request this in advance via email). The room is spacious and there is access to a quiet outside space. There will be light refreshments available. Contact us on info@nice-time.co.uk for any additional information or requests.
ENTRANCE:
The Yard is part of the Work For Change building (which also houses Venture Arts and Kim By The Sea). The entrance is the large blue door on the corner, with large "41" letters. Press the buzzer and someone will let you in and lead you to the room we'll be in! Our number is 07539 371 070 if you have any trouble finding us.
TRAVEL:
By Car – The Yard has parking around the building which is free for 2 hours. There is also a disabled parking space a short walk from the entrance.
By Public Transport – Bus number 86 stops a 2-minute walk away (Old Birley Street stop). Bus numbers 53/250/256/263 also stop a 3-minute walk away (Hulme Park stop). The closest tram/rail link is Deansgate Castlefield, which is a 20 minute walk away.