We are SO excited to announce a free online creative workshop hosted by none other than the Candid Cancer Collective team themselves! Join Bronte, Kimia & Cait for three accessible creative activities – you can even submit what you make to their zine!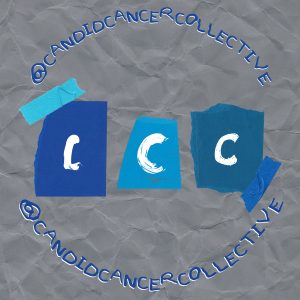 The Candid Cancer Collective is a zine project taking the inspiration out of cancer and bringing real life candid experiences. This project is led and created by Kimia Etemadi, Bronte Palmer and Cait Wilde.
Join the Candid Cancer Collective on Zoom for a free online workshop. This will be a relaxed space where the CCC team will go through our favourite creative tasks relating to your cancer experience. There will be a writing task, a collage task and a drawing task. These will be suitable for absolute beginners and you can take part in as many of the activities as you'd like to.
We will then go through how pieces can be submitted to our upcoming zine (no pressure though if you'd like to just come along to be creative!).
This workshop will be hosted on Zoom Webinar which is a watch format. The workshop will be live, and you will be able to share comments & questions in the chat function. To book a free space on the session and for more information please visit: https://www.eventbrite.com/e/ccc-creative-workshop-tickets-159247223733
​If you have any questions, please get in touch with Kimia, Cait or Bronte: Info@candidcancercollective.co.uk
————————————————————————————————————————–
Oh and while you're here…
CCC Zine Submissions
CCC are looking for submissions for their first ever zine! If you have lived experience with cancer, are a former cancer patient or current cancer patient please read on.
Submission Prompts: 'Where's your sense of tumour?': Do you have a funny story from your cancer story that you want to share? We want to hear it! This can be told in any way you want, and it can be shared anonymously if you prefer! 'Say you've had cancer without saying you've had cancer': This could be a piece of art, writing, a photo or absolutely anything you want! Let your mind get creative!
How to Submit: We're accepting contributions in a range of formats. If you have a story you'd like to share, this can be in an email, Google Form, word document or PDF format or – send it us as a voice note! For images, please send in a PNG or JPEG format.

Please send all submissions (and questions) to info@candidcancercollective.co.uk If there's an alternative way, you'd like to share your submission with us, please get in touch. Deadline for submissions: Tuesday 22 June.

Everyone featured in the zine will receive a copy. We can't wait to see your submissions.

Candid Cancer Collective has been created in collaboration with Drawn Poorly & Still Ill Ok. This project has been made possible with funding and support from Sex With Cancer and Contact.