We've finally started putting together our first zine!
Whether you have ever written, drawn, or shouted out or not before, you are so very more than welcome to submit material to our first issue of the Still Ill OK Zine.
The inaugural issue's theme was chosen by some fellow spoonies at a recent zine club event: 'What not to say…'
As chronically or mentally ill or disabled people (or D – tick – all of the above) we have all probably had someone say something to us that has:
made us cringe with embarrassment
made us boil up with rage
verged on Hate Crime
caused us to stare blankly and try to empathise with the thought process that produced such a terrible remark
been told something by a doctor that makes us cry
retaliate from the built up frustration from similar microagressions
deflate like a sad balloon
Well now is our turn to let people know what is and isn't appropriate, as well as how it feels to have such things said to us.
SO, if you aren't an artist or a writer, that is totally fine – you can just email some anecdotes of totally absurd things people have said to you and, if you like, how you responded and felt.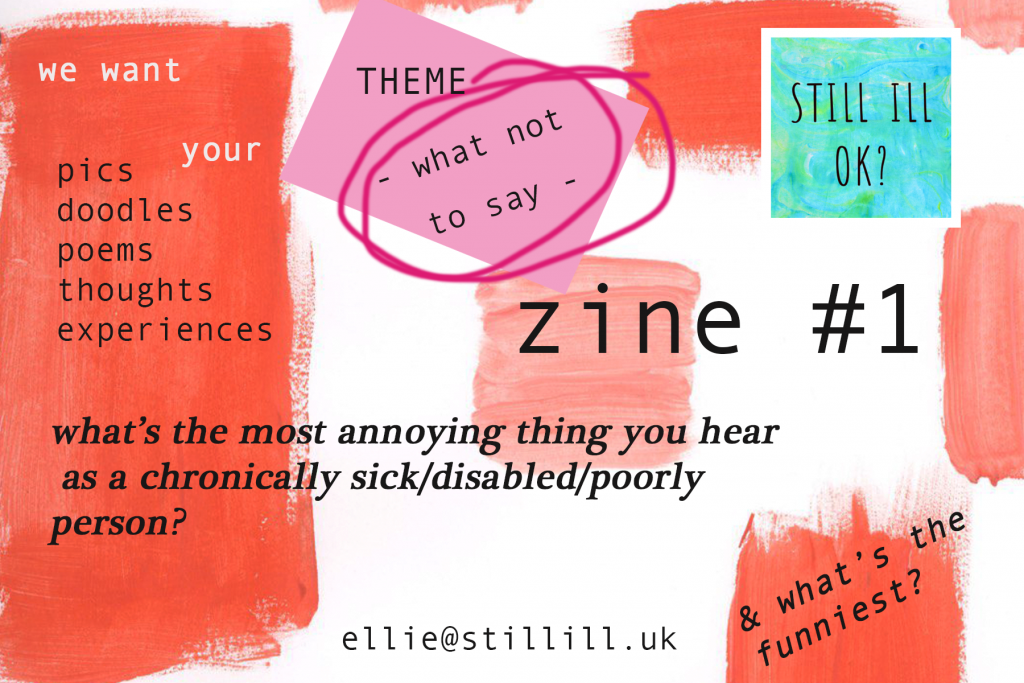 You can submit from anywhere in the world via the following methods:
– post a comment below
– email ellie@stillill.uk
– text us or request a callback on 07539371070
– via social media on Instagram or Facebook
– send us some post at the following address:
Still Ill OK (Ellie Page)
Studio 30.
41 Old Birley Street
Hulme, Manchester
M15 5RF
If there's another way you would like to get in touch or be a part of the zine that is not listed above, please don't hesitate to let me know – I understand that accessibility is an ongoing concept, not a one-stop achievement!