As part of the new venture I've been going on about – Nice Time Arts, in case you haven't heard – I have written an 8 week 'Journalling for Journalling's Sake' or 'F-ART' course (Fun-ART) for adults with long term health conditions and/or disabilities.
Dates and times for the first cohort have not been confirmed, as this will be subject to conversations that will take place with professionals and prospective participants over the next few weeks. The course will have no more than 12 participants per cohort and will run for 2 hours a week for 12 weeks.
The course makes the most of the (you might say 'very few', and I hear you) evidence-based aspects of CBT and Art Therapy, with a healthy dose of sarcasm and humour along the way. It gives a whole new spin on your average 'wellbeing' programme, and both attempts and makes fun of (the latter mostly out of jealousy!) the beautiful instagram sensation of bullet journalling.
This is not only peer led, but peer shaped; your feedback and input very much is taken on board to make up future formats of the 8 week sessions.
This Thursday – 15th August 5-7pm – we'll be having an open drop-in at The Yard Theatre in Hulme, where Nice Time Arts' studio is based, where professionals and participants are invited to come and find out more about the course as well as have a go at a few of the art methods we might be playing with during the programme.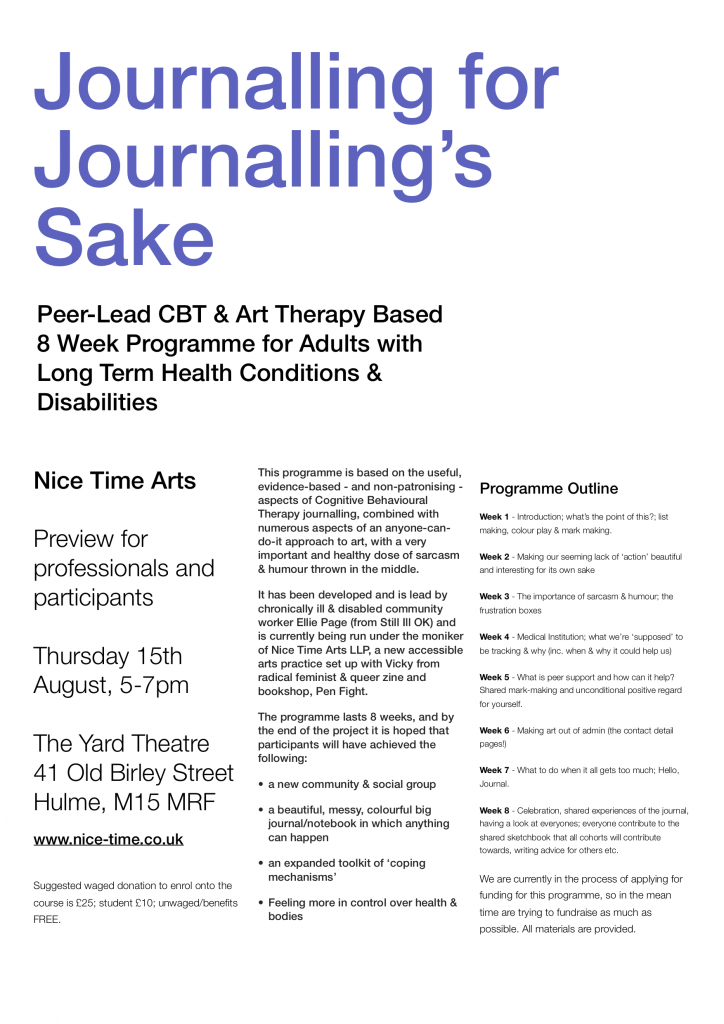 Click here to see our Facebook event for Thursday, and here to register for a ticket (not obligatory, but provides donation option).
If you can't make it on Thursday, but are keen to sign up, please email ellie@nice-time.co.uk with your availability (the course will be 2 hours a week).
If you like the sound of it, please consider donating! I'm in the process of applying for funding, so in the mean time am working my very tired skeleton into the ground – all pennies help to rejuvenate these old bones!