This week, there will be two events in order to celebrate the newly launched Partisan Access Fund! Partisan Collective is closer now than ever to their goal of becoming a more accessible building and therefore provide a more accessible service.
The first event is on Thursday 20th June in the basement at Partisan Collective; you can find out more information about it on Facebook as well as on Partisan's website.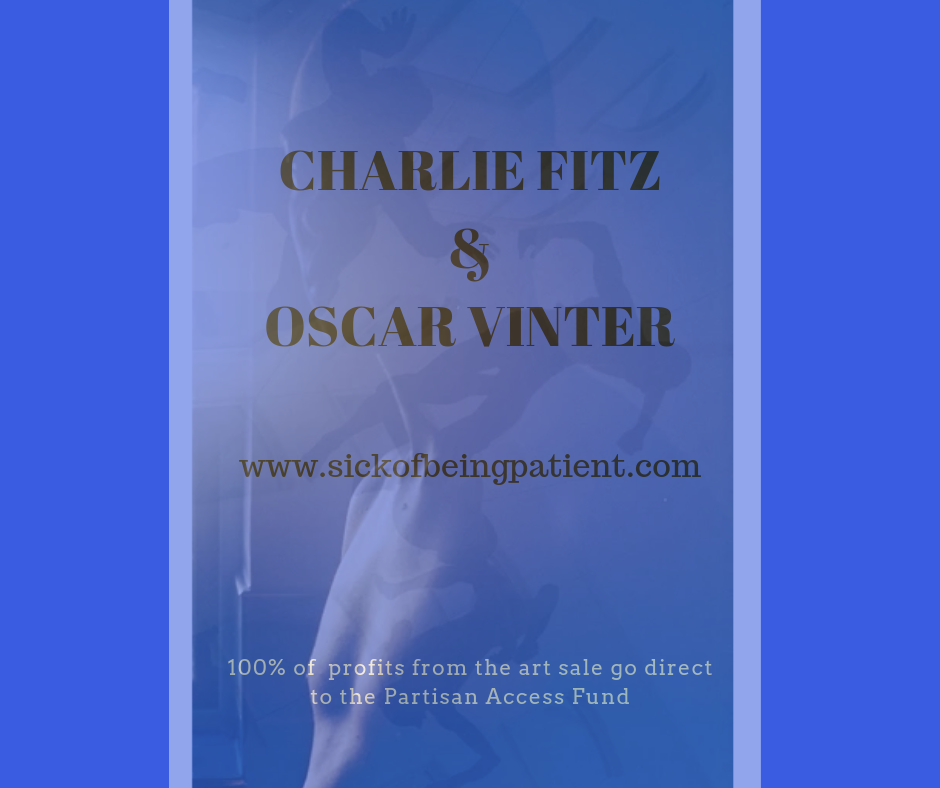 At the event on Thursday, you can expect a schweeeeet playlist from fellow warrior Hannah, a raffle – with some amazing prizes and some surprise dud ones! – a soft drink bar and an exhibition/sale of Charlie Fitz & Oscar Vinter's 6 framed diptychs & a limited edition range of PAF/Sick of Being Patient postcard prints.
I am aware of the irony of me – especially on Still Ill OK – promoting the event on Thursday, which will be held in Partisan's basement, down two short flights of stairs. It is with a significant amount of discomfort that I do so. However, I am employed as Fundraising Coordinator, in an attempt to raise funds for capital works for the building, so that us spoonies and people who struggle with stairs have a new & beautiful safe space to use for events, meetings, exhibitions, brews and parties in Manchester.
As such, I've arranged for a more accessible version of the exhibition to take place this Sunday 23rd June at Dulcimer from 2pm; all artwork will be on display throughout the ground floor, and there will be guest appearances from Pen Fight, Stationary & Stationery and, of course, Still Ill OK.
Sunday will be well exciting as it will just be a great, chilled spoonie get together where we can run a collage workshop, have a look at some gifts and some art.
Charlie has recently had life-saving surgery in Barcelona for a variety of complications she had due to Ehers-Danloss Syndrome. She is raising awareness about this and other, similar cases, as it is shocking and appalling that this treatment and surgery is not available on the NHS and people are having to fundraise to save their own life. She and Oscar have kindly donated ALL profits to the Access Fund and so we are eternally grateful for them!
Thank you mel, as well, wonderfully talented Partisan volunteer who designed and produced all the Access Fund branding!
It will also be their first exhibition up north, so lets make it a good'un!